Amazing Ideas for Living Room Interiors
Who doesn't wishes for an amazing living room interior design with a modern outlook? When it comes to renovating our home, the living room is the first and foremost area that comes to our mind. Living rooms serve a different purpose for different people. Some use it for all their day-to-day activities, while some use it as a gathering place only on special occasions. Anyhow, the living room still remains the focal point of the home for all and must turn out to be the best. Here are some ideas for living room interiors for you to keep in mind to make your Interiors shout out loud.
1. Furniture arrangement ideas for living room interiors:
The furniture arrangement of the Living Room plays an important role in deciding the overall feel of the space. Here are a few ideas for living room interiors that you might want to consider while re-arranging your furniture:
Create a focal point:
Every living room needs to have a dominant focal point. This focal point could be your fireplace, the chandelier, a beautiful window, or a television set. Assigning a focal point would allow you to place all your furniture facing that special feature and add a modern touch to your living room interiors.
Spacing and Placements:
While placing your sofa set and tables, it is very important to keep the spacing in mind. If you are planning on placing your furniture facing the TV unit, ensure to have at least 8-12 feet distance between them. If you are planning your furniture around a coffee table, ensure to have enough distance from the seating for the people to walk around.
Furniture Types:
If you are considering buying new furniture for your living room, the most important thing to be considered is the size of your room. If you have got a huge space, you can go in for a 5-7 seater sofa set with a coffee table in the center. For medium spaces, you can go in for a 3-seater sofa with 2 armchairs, and an ottoman to complement the sofa.  For smaller spaces, you can have a 3 seater sofa with some smaller loose furniture such as puffies, and an ottoman to accommodate more people. These ideas will surely make your living room interior design a modern one!
2. All about the walls:
Walls can turn around the outlook of any given room. However, it completely depends upon your choice of feel you want to have in your room. This will help you decide the colors and patterns for your space. Here are a few wall-related ideas for living room interiors for your consideration.
Pick a color scheme:
Wall Colours can completely transform the overall feel of a room! If you want a subtle cosy living room interior design with a modern feel, go in for less contrasting colors such as white, pastels green, pink, and yellow. But if you want to add a dark and bold vibe to the room then you can choose from a combination of darker shades of blue, black, green and grey.
Create a special Wall: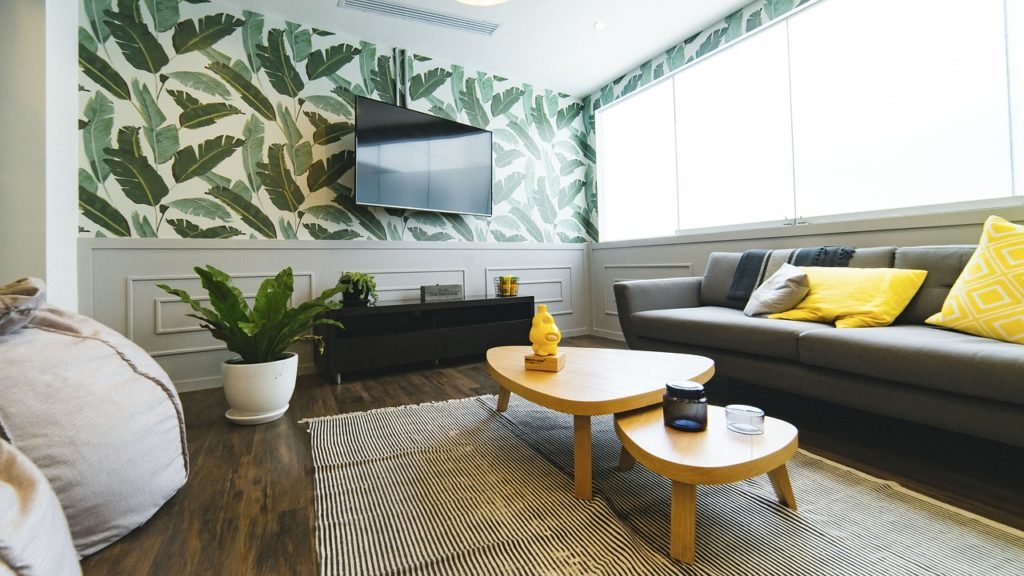 Everyone needs to have a special wall in their Living Room. You can either use the options such as putting up wallpaper or using texture paint to make the wall stand out. Secondly, you can always create a collage of your favourite paintings, and/or family photographs to make the space special for one and all.
3. Accessorise:
Putting up selected accessories can provide a whole new look to even an old dingy room. Here are some ideas for living room interiors accessories that are a must to make your space a very special one:
Lighting ideas for living room interiors:
Proper lighting can actually turn the whole place around and provide it with a great aura. To provide your walls with a magical touch, use bracket lights. If you are a bit tight on budget for your interiors, go in for pendant lights for the ceiling. If you have a huge living area, adding a chandelier, or a molecule light can do wonders! Follow these lighting ideas for living room interiors and you will surely thank us later!
Statement pieces:
Every living area should have at least one statement piece that grabs everybody's attention. It could be a wall installation, an antique sculpture, a painting or even a small vase. This statement piece will add up to the vibe of the entire room.
Cushions and curtains:
Did someone say cushions? Well Yes! Cushions are the very soul of every living space.  If you wish to go in for a bit formal seating, you can go in for a collection of smaller-sized cushions to fit in your seating. Pick up cushion colors complementing your sofa color. However, if you want a homely vibe to your living room, go in for a collection of huge as well as mid-sized cushions to hug out all your stress after a long tiring day. Go all crazy and bag them up with as bright colors as you want.
Secondly, if you have a decent view from your window, you need not hide it away with your expensive curtains. Go subtle on the curtain selection and chose some light-colored side curtains to frame your window. However, if you want a darker living room, you can always pick up heavy and dark-colored curtains.
4. Go Green!
It is always a good idea to have a touch of green in your living room. This not only adds a positive vibe to your room but also makes you feel fresh and lively. Go in for a combination of different indoor plants.  You can go in for a tall potted plant next to the couch. Another could be on a pedestal, close to the door or the television set. Some evergreen indoor plants that can never go wrong are Bamboos, Palms, Bonsai, and Money Plants. Adding greens is one of the best ideas for living room interiors to make your space more interesting and lively.