Design your home with patterns and prints like a pro!
All solids and no prints make any house a dull space to live in! When renovating your space, there are a lot of things that we need to look at. One of the most important of which is the use of colors and patterns. Though some of us might be aware of the use of interior patterns; however, do we know about the variety that we can choose from? or what are the possibilities of using those patterns? If the answer to these questions is "no" then you might want to continue reading further!
Types of Prints and Patterns
Mixing and matching these interior design patterns and textures with solid colours can often be a very challenging task. The professional technique that most interior designers and architects like us use, is inducing a sense of balance in space, using these whimsical prints and patterns. Prints and patterns can be used in various forms. They can be used in the form of upholstery, interior wallpaper pattern, cushions, jail's, flooring patterns, and wall paints. But before we learn how to choose interior patterns we first need to know about the variety of available options. Let us steer straight into the pool of patterns-
Geometric and Abstract patterns
Geometric patterns can never run out of style. Whether you want a house based in the 19th century or a modern contemporary house, these geometrical and abstract patterns will always be your saviour. Choose from a slight gradient of complementary colours or a pastel colour pallet to create these geometric patterns. You can use them as a backdrop for your bed or use it as an accent wall in your modern living room. Besides interiors, these patterns can also be used on facades of buildings because the chances of going wrong with these patterns are pretty low.
TIP: when using geometric patterns on large walls, try introducing complementary colours in materials and textures to add a sense of depth to space. Try not to use dark shades and dense patterns in small spaces to avoid making the space look congested.
Argyle
Most of us might have seen the classic pattern of diagonal checks, often weaved or printed on sweaters. This pattern is gaining quite a lot of popularity these days. You can go for a monochromatic scheme of colours interspersed with lighter shades such as white, off-white, ivory, etc. To save yourself from ending up with a disaster, avoid using different colours in one room to create this argyle. Due to its formal appearance, this interior wallpaper pattern can be used as a backdrop or an accent wall in a guest room or your very own home office space.
Checker Pattern
checks or checker is the most favourable option amongst designers for flooring. This interior pattern is a perfect choice for house entrance foyers, corridors, and lobbies. The flooring is usually done in black and white vitrified tiles or marble. We can surely play around with the colours in combination with white. There are a few things we need to keep in mind before applying this pattern-
Avoid using checks in smaller spaces as it would make the space look too busy and congested.
When considering staircases, do not use checks as it would create a lot of confusion while using the staircase.
Don't use smaller checks for large spaces as that can reduce the sense of openness of the space.
Gingham Pattern
This pattern is a variation of the checked pattern. There aren't many options to play around with this one as gingham has only 3 shades-black, white and grey! This provides us with very little room for creativity. Due to the small checks in this pattern, we might not want to use it on walls as it would make the room look very small and busy. However, we can try using this pattern in other elements such as cushion covers, rugs, & table cloths, with solid walls.
Chevron
whether it be a wall, flooring, upholstery or rugs this pattern suits every space and fixture. As per the recent interior design trends, this evergreen yet trendy interior pattern has been favoured by most architects and interior designers throughout the world. When considering chevron, you can go for slight gradients of pastel, neutral colours to monochromatic schemes. Though chevron is a very flexible pattern, too much of anything can turn out to be a disaster!
Herringbone
Another popular pattern that is mostly seen in pavement flooring, when used in the right manner can turn a very casual looking space into a million-dollar room! Whether you use it in varying hues of different coloured tiles on your accent wall or flooring of any space. If cladding tiles or mirrors seems too much of hassle for you, you can simply paint this pattern using a stencil with the colour of your choice.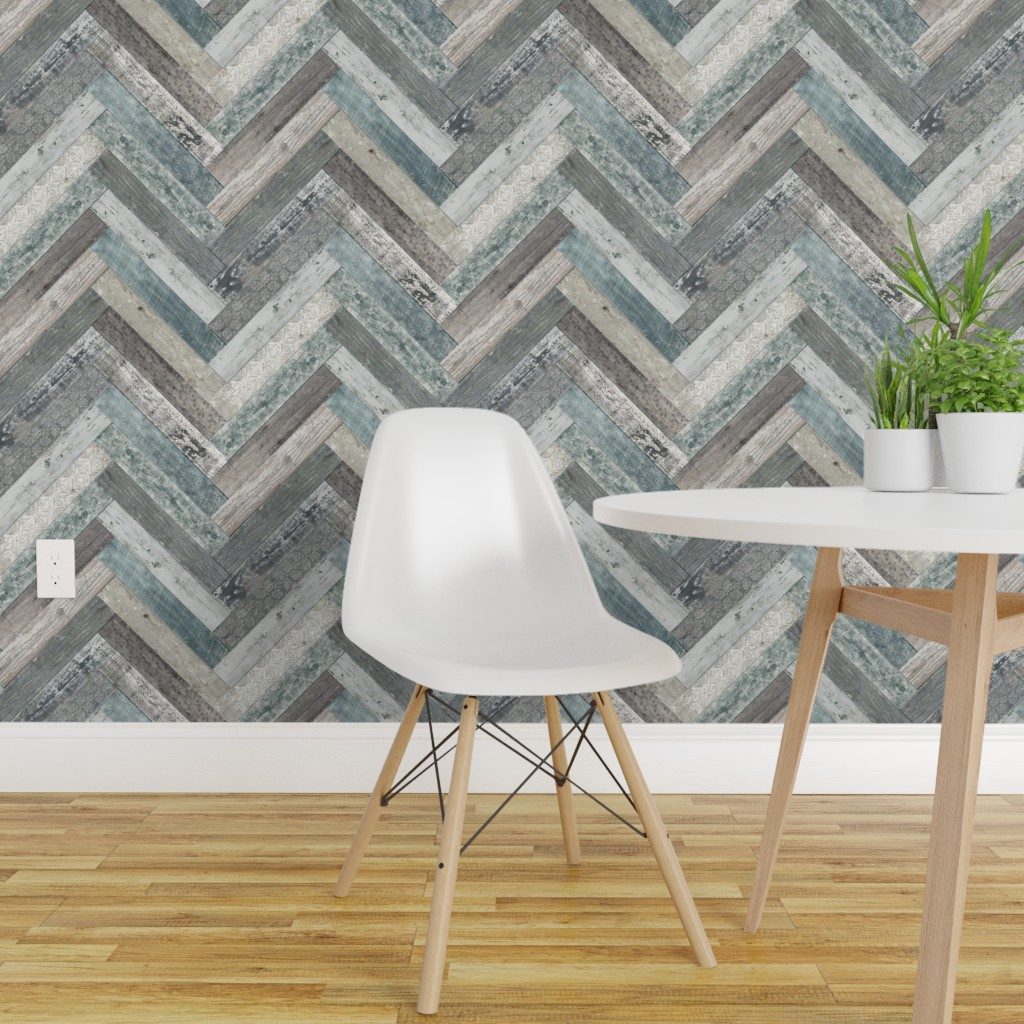 Tip: Try orienting the pattern towards the longer side of the room to make space look wider.
Hexagon
one of the top trends that everyone is dying to achieve is the honeycomb look. Everything from tile to wallpaper to jalis is manufactured in hexagon shapes. One of the most popular ways to use these tiles is as cladding behind your kitchen counter. Combine it with Fleur de lies pattern. You can go for monochromatic gradients to multi-coloured gradients. You can even simply clad single coloured tiles on your accent wall to create a super modern yet classy look.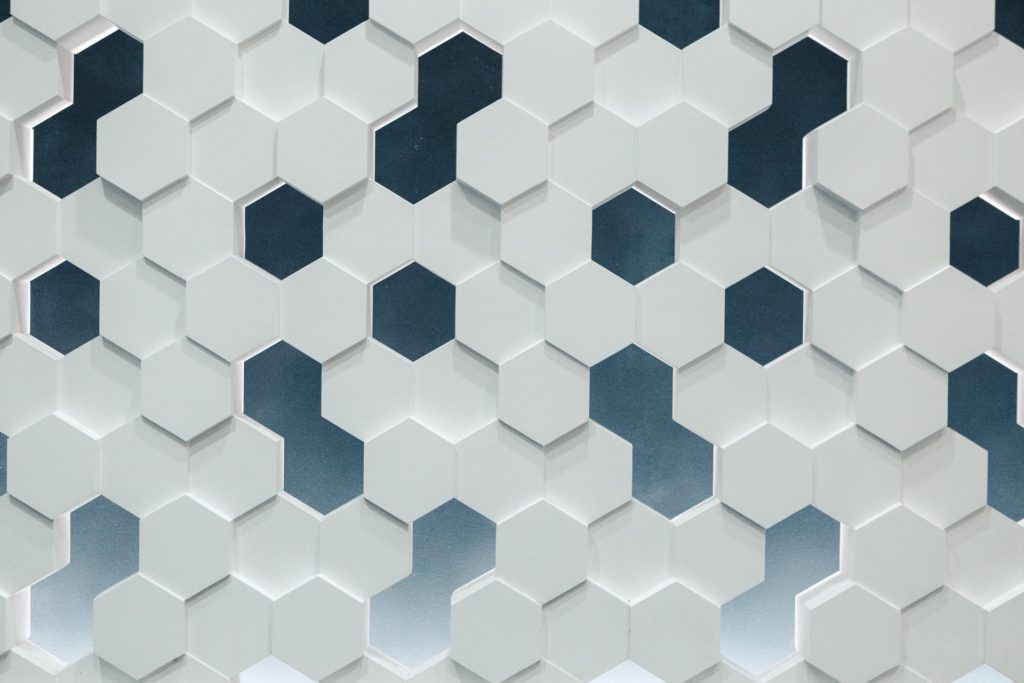 Moroccan
If you have an eye for retro classic interiors, then these this Moroccan trellises is the right thing for you. You can find these interior patterns on wallpapers, glass, tiles, rugs and upholstery. This pattern pops amazingly in the shades of blue. However, it has a lot of room for all the creative heads to play around with. This pattern can be used in spaces such as bathroom, kitchen and living room's accent walls, or commercial spaces such as restaurants. If you are a fan of bohemian decor, try adding simple Moroccan trellis patterned cushions and rugs to your interiors.
Quatrefoil
This pattern is quite similar to the Moroccan trellises. The quatrefoil pattern is slowly gaining popularity amongst designers due to the flexibility of use. This pattern can be created just by using a darker base colour and then creating the quatrefoil pattern with the use of stencil in a light complementary colour. Besides the wall, you can use this pattern in jalis', curtains and upholstery as well.
Striped Pattern
whether it be a formal, semi-formal or an informal space, stripes can always be your go-to pattern. Just by changing the widths, colour and arrangement of stripes, you can create dozens of patterns yourself. Stripes can be used vertically or horizontally as flooring pattern, upholstery, interior wallpaper pattern, cushions and exterior cladding. If used intelligently, these stripes can turn a dead room into a sassy sophisticated diva.
Tip: try using horizontal stripes for a room with lesser width and vertical strips for space with a low ceiling.
Animal prints
Although Animal prints are bold and classy, however, these certainly aren't meant to be created on walls. These prints can be used as focal points in your space to draw viewers' attention. They can be bewst used for rugs, cushion, floor mats or even wall art. Mixing these prints with any other pattern such as floral or damask is a strict no-no.
Damask
A vintage yet feminine pattern, with large curvaceous patterns. This is often used as backdrops in bedrooms with solid furniture. Make sure you do not go overboard by using dark colours, as it would make the room look smaller and congested. Damask is mostly used as an interior wallpaper pattern because it is easier to install and saves u from the fuss of cresting a complex pattern.
Fleur de lies
Inspired by the club placards, this flowery vintage pattern is the best fit for accent walls and soft furnishings such as curtains. Spaces such as houses, bakeries and cafeterias can be adored using this pattern. It is easier to install fleur de lies in for of interior wallpaper pattern. However, if you are someone who prefers paint over wallpapers then you can simply get it painted using a stencil. Besides interiors, this pattern can also be used in elements like railings, stone claddings etc.
Floral Prints
when it comes to adding a playful and feminine vibe to your space, floral patterns are always the first choice. You can enhance your wall using this interior pattern without worrying about the colour restrictions. We recommend choosing a pastel pallet with a contrasting coloured pattern on it for a chic vintage look. These patterns can be used mainly in bedrooms as backdrops, beauty clinics, boutiques etc.
Ikat Pattern
A very minimal, hand-dyed pattern, best suited for curtains, cushions and other soft furnishings. This pattern can be used in spaces such as a bohemian style home, boutiques, and showrooms.
Ogee
ogee is typically a variant of Moroccan pattern. This pattern oozes people with a raw contemporary taste. You can try using this pattern in soft furnishings such as wallpaper, upholstery, cushions, curtains and weaved rugs.
Paisley
A very traditional Indian motif, the paisley is a design that usually looks good when finished with soft undertones. It also goes well with self-printed upholstery or wallpaper. This interior pattern can be used specifically in residential spaces along with solid coloured furniture and artefacts.
Polka dots
Though this pattern might seem too cute. However, polka dots should only be restricted to fun and vibrant spaces such as children's bedrooms, playschools, and nurseries. You can try playing around with different colors and sizes of polka dots to create varying looks and styles