Geoffrey Bawa: The man behind Timeless Architecture
Geoffrey Bawa was an architect as well as a major art lover and collector. He designed spaces to be experienced and not just observed. His vision for spaces in three-dimension was marvelous and worked with minimum drawings.
Early Life and Education of Geoffrey Bawa
Geoffrey Bawa was born into a wealthy family on 23 July 1919. His father, Justice B. W. Bawa, was a well-established and successful lawyer. He had an older brother Bevis Bawa, who was a renowned landscape architect.
He got himself a BA in English Literature Tri-ops from St. Catharine's College, Cambridge in 1938. Thereafter, he went on to study law and becoming a barrister in 1944 from Middle Temple, London. After World War II, he worked in Ceylon for a Colombo Law Firm.
Post his mother's death he left law and took off to travel for 2 years in 1946. Starting from the Far East, across the United States, finally to Europe, and almost settled in Italy.
In 1948, Bawa returned to Sri Lanka. He bought an abandoned rubber estate on the southwest coast of an island at Lunuganga. He planned to create an Italian garden from a tropical wilderness.
However, due to his lack of technical knowledge, he could not execute his ideas. Therefore, in 1951, he apprenticed to H. H. Reid, the only surviving partner of the Colombo architectural practice Edwards, Reid and Begg.
In 1952 Reid died, however, Bawa still wished to fulfill his dream and aspired to be an architect himself. Therefore, he returned to England. After spending a year at Cambridge, he enrolled as a student at the Architectural Association in London to gain a Diploma in Architecture by 1956.
He also became an Associate of the Royal Institute of British Architects the following year.
In 1957, at the age of 38, he returned to Sri Lanka as an architect to take over Reid's leftover practice.
Influences
English country houses and their landscaped gardens influenced Geoffrey Bawa to a great extent. Some of his other inspirations include the Alhambra in Granada, the forts of Rajasthan, the Keralan palace of Padmanabapuram, and also the buildings of Cambridge and Rome.
He also acknowledges his debt to classical Sinhalese architecture and to the later vernacular traditions that evolved from the fusion of medieval architecture with that of the Portuguese, Dutch and British colonists.
Inspired perhaps by the writings of Ananda Coomaraswamy and Andrew Boyd, he and a small group of friends were also amongst the first to look seriously at Ceylon's architectural heritage and to treat it as a possible source for a new architecture.
Bawa also drew inspiration from masters of the Modern Movement, Mies van der Rohe and Le Corbusier. Their influence can also be found fused in some of the early Geoffrey Bawa works.
Philosophy of Geoffrey Bawa
Geoffrey Bawa architecture is an experience and is hard to put to words. He said "When one delights as much as I do in planning a building and having it built, I find it impossible to describe the exact steps in an analytical or dogmatic way. I have a very strong conviction that it is impossible to explain architecture in words – I have always enjoyed seeing buildings but seldom enjoyed reading explanations about them – as I feel, with others, that architecture cannot be totally explained but must be experienced."
Working on the form of a structure never attracted Bawa. He once also said "Buildings inherit meanings from their milieu and acquire meanings through use. A building grows from an appreciation of the site and an understanding of the aspirations of the client: the rest is movement, spatial manipulation, the framing of views, the choice and disposition of materials, and the play of light."
Geoffery Bawa's Architectural style
Bawa established a whole canon of prototypes for buildings of the Tropical Asian context. He is also regarded as one of the most important and influential Asian architects of the 20th century. Geoffrey Bawa worked on a wide range of projects from private houses and hotels, schools and universities, factories and offices, to public buildings, including the new Sri Lankan Parliament.
Sensitivity to site and context are major aspects of any of Geoffrey Bawa's works. His work used to be instinctively, rather than self-consciously, sustainable. His was to break the segregation between inside and outside, there is a beautiful bond between buildings and landscape. He also characteristically links a complex series of spaces – rooms, courtyards, loggias, verandahs – with distant vistas in a single scenographic composition.
Geoffrey Bawa Buildings are a subtle blend of modern and traditional, of East and West, of formal and picturesque.
Major Buildings by Geoffrey Bawa
One of Bawa's most impressive achievements has been the Garden at Lunuganga, which he has slowly developed for himself from an abandoned rubber estate over a time period of 50 years.
The result is a series of outdoor rooms, conceived with an exquisite sense of theatre. It is a civilized wilderness set within the greater garden of Sri Lanka.
Moreover, his body rests on the cinnamon hill of his own magical garden, when he passed away in 2003.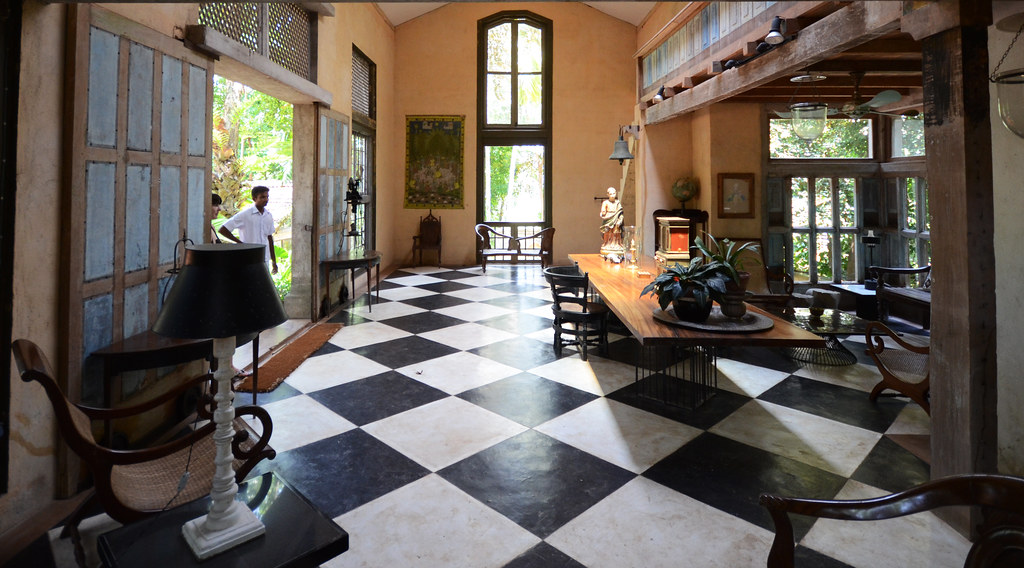 House Number 11 on 33rd lane – The Geoffrey Bawa House
The house in 33rd Lane is a masterpiece of Bawa's architectural bricolage.
In 1958, Bawa bought 3 small row houses out of 4 at the end of a narrow suburban lane. He converted it into a home with a living room, a bedroom, a kitchen, and a servant room.
The Geoffrey Bawa house holds a beautiful collection of his art and artifacts.
The Geoffrey Bawa Trust now encourages enthusiasts of Architecture and Art to stay at House number 11, one of the most magnificent Geoffrey Bawa works.
There are 2 rooms on the 1st floor that act as a suite with a common attached bathroom. The 3rd floor is a lodge and the 4th is an open viewing deck.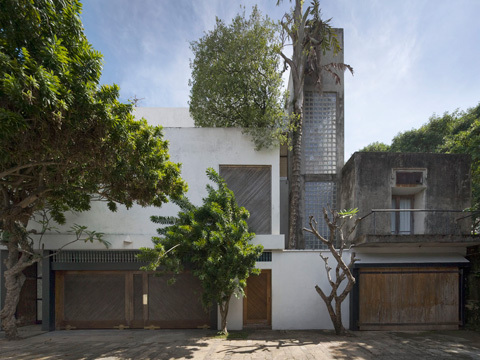 In 1962, Ena de Silva and her husband Osmund commissioned Geoffrey Bawa to design their home in Colombo.
Bawa's design negotiated the increasing urbanity of the site with an introspective design. It was both radically modern and drew inspiration from traditional architectural tropes in Sri Lanka, like the central courtyard.
The success of the design makes the house a pivotal project in Bawa's career.
It was also the beginning of a deep friendship between Ena and her architect.
Moreover, in 2009 when Ena decided to sell the land, the Lunuganga Trust disassembled the house and rebuilt it at Lunuganga, where it stands today.
Heritance Kandalama Hotel
The Kandalama Hotel stands on the outskirts of Dambulla, Sri Lanka.
The clients for the hotel were the Aitken Spence Hotel Group and the agenda was to accommodate tourists visiting the city of Sigiriya.
Aitken Spence originally intended to build the hotel adjacent to Sigiriya. However, Bawa insisted that the hotel should instead be sited 11 km southeast of the historic city and rock formation.
The additional distance protects the surroundings of the cultural site and allows for picturesque views of the monument across the horizon of Kandalama Lake.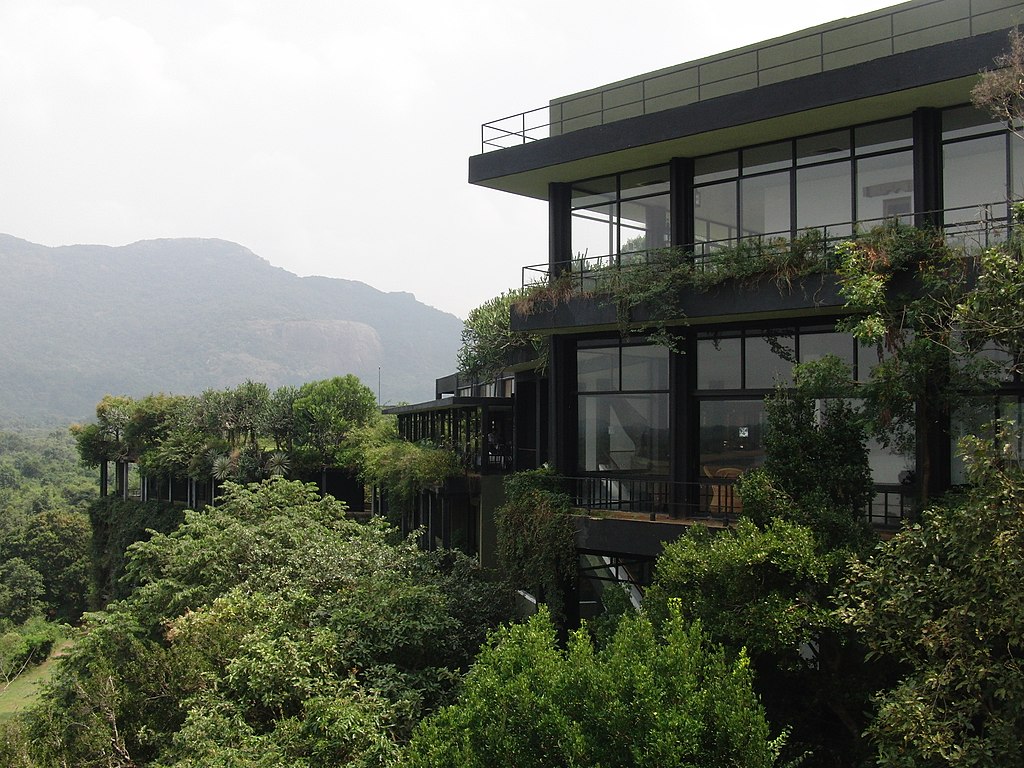 The Kandalama Hotel is considered one of the most important Geoffrey Bawa works. It clearly showcases his talent for creating effective spatial sequences and architectural narratives.
The hotel was designed to serve as a building to view the pristine landscape of the Kandalama basin.
The lightness of the architectural articulation was an appropriate and successful design strategy.
The hotel also uses innovative building technologies and systems designed to lower the environmental impact of the building's operation on the catchment of the nearby lake.
Some of the prominent projects of Geoffrey Bawa also include House No 87, Villa Bentota, Light House Hotel, Parliament of Sri Lanka and De Saram House.