Charles Correa: India's Greatest Architect!
Charles Correa, a man known to be 'India's Greatest Architect' named by the Royal Institute of British Architects (RIBA) in 1984 was a prolific designer. Also, he became one of the most important persons of post-independent India by shaping its architecture.
Correa, for his creative works, has been respected with many awards in his lifetime. He was also awarded Padma Vibhushan in 2006, the second most prestigious civilian award of India.
Correa being the most iconic modern architect has gifted more than 100 marvelous architectural wonders to India alone. His contribution to the built environment also grew its roots in many other countries. And in 2015, at the age of 84, his role in this World came to an end. However, all the amazing Charles Correa works still keep him alive.
Inspiration from his Childhood:
The life journey of Charles Correa, who later became the most renowned Architect and Urban Planner, began on September 1, 1930, in Secunderabad, Telangana.
He mentioned in an essay "I think I became an architect because of toy trains".
As a child, Correa used to play with toy trains and he found it marvelous how the tiny tracks worked. How the tracks changed and totally new formations were achieved every time amazed Correa. This blew his mind completely. In addition, he used to draw different patterns on graphs and then assemble the tracks to see them in reality.
When he was 15, he came across an architectural journal for the first time and he was able to read and understand the drawings. Therefore, he gained interest in shaping the environment and the journey of Charles Correa in the field of architecture began.
The Journey of Knowledge:
Charles Correa began his journey of higher education at St. Xaviers College at the University of Mumbai, India. He then moved to Ann Arbor in 1953 to pursue architecture from the University of Michigan. Later, he did his masters in architecture from the Massachusetts Institute of Technology (MIT), Cambridge in 1955.
In 1958, he moved to Mumbai to start his own architectural practice. And in 1960, Correa started working as an Urban Planner and gave this Country its lifeline, "Navi Mumbai". He also became a part of spreading the knowledge to others by teaching in various Universities. He was a very down-to-earth person by nature and did not want to limit his knowledge only to himself.
Years later, when he was about to visit the first Chinese Garden, he was perplexed by its pictures. He reviewed the pictures saying- "The quirky little bridges, pond of water, the dragon wall, etc, were so fragile". But when he actually visited it and started walking, all these elements started building which overwhelmed him. He found it interesting how the same elements are repeated again and again. How a slight change in angle or in sequence can bring a different look.
He drew inspiration from almost all the places and things. His curiosity for everything and his unique style made Charles Correa works world famous.
Charles Correa Philosophy:
The works of Le Corbusier influenced Correa while studying at MIT. Charles Correa transformed the principles of modern architecture to suit the non-western culture of India. This made him stand out from the rest of the architects and made him shape post-Independence India.
He applied his knowledge of modern architecture and design principles of contemporary style to shape buildings as per local climates. Correa combined modern architecture with a traditional touch to design not only in India, but he followed the same philosophy all around the world.
The Charles Correa Foundation:
The Charles Correa Foundation (CCF) was initiated by Correa himself in 1984. It was started with the purpose of positive change through the community of architects and designers. CFF is a non-profitable trust which has its door open for everyone who wants to engage with their work.
It provides scholarships, awards, and prizes to students of architecture. Also, contributes to the literary world by publishing journal, reports, and research papers. It also organizes exhibitions, seminars, field studies, etc. CFF is a great initiative by Charles Correa for society.
Charles Correa gave a physical form to something intangible; culture and society.
Charles Correa Architecture:
Correa became one of the gems with his designs which leave us with lots of inspiration. In all his initial works, the traditional touch of elements is quite prominent. He always tried to blend the local culture into architecture. Charles Correa buildings complemented the context and landscape of the Country he designed for.
Most Common Characteristics of Charles Correa Buildings:
The symmetrical spaces, flawless forms of concrete, use of modern materials, and sensitivity towards the site are some of his main architectural characteristics.
Charles Correa was very much against the use of mechanical heating and cooling for the buildings. He instead opted for passive techniques like the shading of spaces, proper use of building orientation, controlled air movement, and special techniques in building materials.
He believed in open to sky spaces, which are visible in most of his buildings through courtyard planning.
Recycling the water, energy renewal, habitat friendly systems were his main principles with some twist of light and air.
Another main element that can be seen in all Charles Correa buildings is the connecting pathway that moves throughout the whole structure.
His saying, "Form Follows Climate", was a twist to the quote "Form Follows Function", and is highly prominent in all the Charles Correa buildings. For approximately half a century, he built buildings without any air conditioning which was not the scene of the trending modern architecture with glass facades.
His idea was to give a new lifestyle to the people of the country which he explained as, "using a house in a nomadic way". It can be further described as using different spaces at different times throughout the day as per the passive systems used. Moreover, this theory was not only limited to small Charles Correa structures but to larger structures as well.
Shaping the Urban Masterplan of Navi Mumbai:
Navi Mumbai wasn't just another project for Charles Correa, but it was his dream. Charles Correa was initially the chief architect for Navi Mumbai. He also worked on the same for almost 5 years. However, the project was passed on to other faces at later stages. His dream was to take off the pressure from Mumbai due to its increasing population.
Charles Correa made a film "City on the Water" for the government and people of Mumbai. This was done to make them understand what was happening with the city and its people due to the increasing population and illegal settlement of poor people.
However, Charles Correa's idea for Navi Mumbai failed due to political reasons. It was planned to decongest Mumbai by shifting some parts of it to Navi Mumbai. However, it turned up exactly opposite.
Low-Cost Housings by Charles Correa:
Charles Correa made his name in the construction of low-cost housing as well. He wanted to make the houses affordable for the poor of the Urban World. He believed in simple geometry and a simple plan of the houses which can be built by the local people. Some of his low-cost housing projects are Tube house, Belapur housing, HUDCO courtyard housing, etc.
Prominent Charles Correa Buildings:
Charles Correa, in his lifetime, designed many buildings in India as well as abroad. So now it's time to have a virtual tour of some of his major projects-
This is the earliest and most famous project done by Charles Correa. This Ashram was designed as a memorial to Mahatma Gandhi. It showcases all his principles and ideas. Similar to Gandhi's home, this museum follows the most traditional ways of construction. It has tiled roofs, brick walls, wooden doors, and stone structures. The building does not have any glass element; not even in windows! Instead, windows have wooden louvres for light and ventilation. The central open space for exhibitions gives a comfortable experience, irrespective of Gujarat's dry and hot climate. This was only possible with the intelligent use of courtyards and water bodies in the building layout.
The perfect example of Indian culture; growing modernism, and the climatic conditions, the Kanchanjunga apartments provide a roof for 32 families. Varying from 3 to 6 bedroom houses, all these 32 apartments have been divided into 4 different types. Mumbai, the city of dreams brings the cool sea breeze from east to west direction. Moreover, this is exactly how most of the buildings in Mumbai are oriented. However, this direction also brings in the hot sun and heavy rainfalls.
The solution for this orientation was captured by Correa in various old bungalows in Mumbai. They have verandah all around the living area to protect interiors from the harsh sun and rain. Kanchenjunga Apartments by Correa used the same principle for its climatic responsive design. However, here Correa used modern balconies instead of verandahs.
Today, Kanchanjunga apartment is one of the most known building in Mumbai.
Correa believed that high-density spaces can be easily incorporated into low-rise structures and that was clearly visible in this project. The project spreads over 6 hectares with houses for 600 families. It also includes schools and other community spaces. The housing project consists of a group of seven houses planned around a central courtyard of 8 x 8 meters. His idea for Navi Mumbai was to bring in the elements of 'Bazaar', which now serves as the new sustainable urbanization. This project is one of the best examples of low-cost housing by Charles Correa.
The multi-arts center refers to the 'mythical' qualities of India. It is based on the traditional Hindu system of Architecture by using the principles of 'Vastu Shastra'. The building got its inspiration from the plan of Jaipur itself and also from the nine planets of Navgraha. Therefore, the center consists of 9 squares in total. The central square of the composition has is a courtyard. This is how Charles Correa buildings always had a connection with the Indian context.
The center in Lisbon by Correa has a curved stone form with circular punctures. The structure comprises two main buildings connected by a glass bridge, truly showing the characteristics of Modern architecture. The building is not a museum of modern art but is a medical center. Charles Correa tried to create an astonishing piece of architecture through his design for the center which has a beautiful and sculptural look. The beauty, he wanted to use as the therapy for the suffering people.
Just imagine the happiness you would feel contributing to the institute you graduated from. Correa designed this science center building for his university campus. It is the largest Brain research center in the whole World. The site was a challenging one with two separate pieces of land, each on either side of the existing railway track.
The site houses three major research institutes that have their own identity and separate entrances at street levels. Correa combined all the three structures above the tracks and made it look like a sculpture. It's shocking how Correa without disturbing the tracks found out the solution. The building not only is a part of the architecture but also urban design with its unique style.
The last creation by Charles Correa, in his contribution to society, is the Ismaili centre. He followed his steps of designing as per the tradition of Country here as well. The centre is a multi-purpose building with spaces for cultural, recreational, and educational purposes. Situated in a landscaped park, the building was a collaboration with a local design firm. The building was a modern form of Islamic architecture.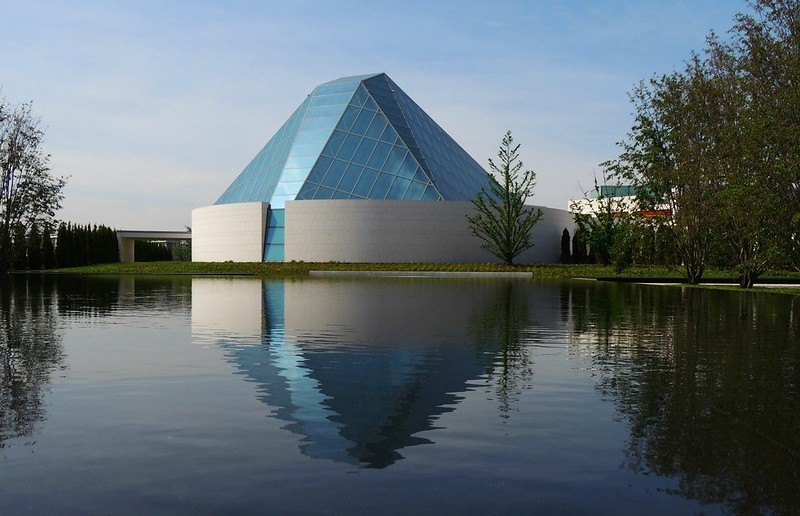 In conclusion, Charles Correa architecture became a new language to tell the tales of India. He will always be remembered as the first urban visionary of independent India. His idea of using modern materials to create the traditional structures which have the context of the city made him stand out in this competitive world.
He was successful in achieving his vision of architecture and is still alive with Charles Correa works.