Bjarke Ingels: The Architect who Designs for Future!
Bjarke Ingels Group (BIG), is not only big by its name but also by its extraordinary work. He has become one of the leading architects of today's World.
He also earned his name in a very short period of time and is a foreigner in this typical architectural World. Bjarke Ingels architecture has become a completely different genre and is surely fascinating.
How did Bjarke Ingels become what he is today?
The charismatic Architect, Bjarke Ingels was born on 2nd October 1974 in Copenhagen, Denmark. He always dreamt of becoming a cartoonist. However, his father pushed him to study architecture.
He started studying architecture at the Royal Danish Academy of Fine Arts in 1993. In his first year of college, he wanted to develop his drawing skills which would help him in becoming a cartoonist later. However, with time, he started gaining interest in architecture and changed his mind. He continued his studies from college in Barcelona and returned back to his hometown for Diploma in 1999.
Only in his third year of college in Barcelona, Bjarke Ingels became the winner of the first competition that he took part in. He polished his skills under Rem Koolhas for 3 years from 1998. He then returned back to Copenhagen and did some of the projects in partnership under the firm name PLOT.
In 2006 Bjarke Ingels started with his own firm Bjarke Ingels Group and in no time spread his magic in the field of architecture.
How did Bjarke Ingels Group evolve?
Starting with very small from Copenhagen, the architect has achieved so much in such a short period. Bjarke Ingels Group has spread its offices over 4 countries and Bjarke Ingels architecture in more than 10 countries. The timeline of his offices are:
2005: Bjarke Ingels Copenhagen office
2010: Bjarke Ingels New York office
2016: Bjarke Ingels London office
2019: Bjarke Ingels Barcelona office
With all his magic spread over the entire globe, Bjarke Ingels Architecture is the inspiration for today's generation.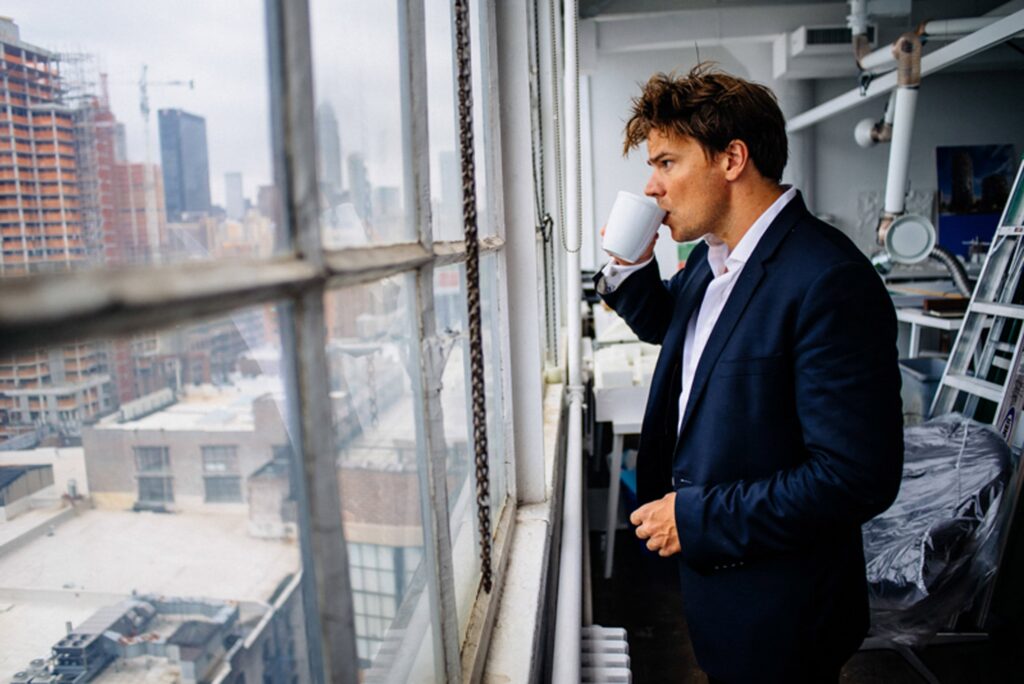 Bjarke Ingels Design Philosophy:
Bjarke Ingels architecture is all about finding the problem and understanding the greatest potential of the project rather than just focusing on the aesthetics. Some of the Bjarke Ingels design principles and philosophies that we can see in his buildings are:
Bjarke Ingels's definition for architecture is "The art of translating all the immaterial structures of society- social, cultural, economical and political- into physical structures".
He believes in sustainability. Twisting and sloping elements can always be prominently seen in most of Bjarke Ingels's works.
The architect believes in big ideas and designs which he describes as 'Bigamy'. His idea is to take multiple elements that do not fit together and merge them to create a new genre of design. This is the Secret of "out of the box" Bjarke Ingels projects.
He treats the environment with a perspective to explore, shape, and reinvent it. He quotes, "If we can change the climate of the World by Accident, Imagine what we can achieve by trying".
Bjarke Ingels believe in bringing the fictional designs to reality. He builds what one can only dream. His designs seem impossible until it takes its shape and that's how unique Bjarke Ingels buildings come into form.
His idea about buildings is that they should respond to the local materials and climate. Buildings should make a conversation about human life.
Bjarke Ingels has a philosophy "Yes is more", which he believes is bringing the fantastic in his works.
The architect brought a concept of 'Hedonistic Sustainability' which he describes as "Suddenly sustainability actually becomes the more fun, the more enjoyable alternative to what we know".
What are some of the innovative Bjarke Ingels structures?
This residential project consisting of 80 apartments. They are designed above a multi-story car parking, arranged on a sloppy hill-side. The project consists of 2/3 parking spaces whereas only 1/3 residential apartments.
The concept was to place terraced housing above the parking area rather than making them two separate buildings.
Each apartment has a personal terrace garden facing the sun with amazing views and a personal car park just in front of their apartment.
Just imagine parking your car on the 10th floor! Seems impossible right? However, that's what Bjarke Ingels made possible.
The structure can accommodate 480 cars. They can reach up to the top level through the sloping elevator that moves along the inner walls of the mountain. Through this building, we can now understand the philosophy of Bjarke Ingels of how he mixes two totally opposite elements.
Copenhill surely seems like fictional project brought into reality by this Danish Architect. It is a waste-to-energy power plant. Its facade has designed in such a way that it hides the serious image of a factory building.
One of the main design elements of this building is the bursting smoke rings. Smoke emitted from the factory comes out in a beautiful ring shape.
Another surprising functionality of this boring factory building is the artificial ski slope from the top of the building. Ingels believed functionality cannot come in the way of creating beauty, it does not have to be either; it can be both.
During summer, the rooftop is like an activity park for visitors with facilities like hiking trails, playgrounds, climbing walls, etc. Also, during winters, it becomes the ski slope. It provides amazing views of the city in every season.
Copenhill is like a man-made mountain and contributes to nature.
Set in a Mountain View campus, the new building for Google is under construction. A beautiful white tent-like roof will highlight this building. Creating a ripple effect with a slight dip in the middle, it is planned with a series of panels.
The floor and the roof plan do not lineup with each other. The roof has been planned like a canopy. It will create semi-open outdoor rooms at the corners. These corners are beautifully merged with the landscape. Also, these spaces are designed for sculpted gardens or hangout spaces.
Ingels defined this project as a new standard for workplace design.
We all have memories of playing with LEGO blocks for making different objects. However, Bjarke Ingels brought that to real life. Shaping the exhibition space and public squares, the building is seen in the architectural scale of LEGO blocks. All the spaces have been designed keeping in mind the concept of LEGO. 21 overlapping blogs frame the 2000 square meters of LEGO square. They are placed on top of them like buildings. The building manifests the infinite possibilities of LEGO blocks and becomes a fun place for all age groups.
Set along a central axis the building opens as a cascade of green terraces. The concept of the building is to design the building in decreasing height that it merges with the two existing secondary schools at a point. Five rectangular rotated blocks with height variations form the building. Also, for outdoor learning, the green terraces also have been used as extensions of the classrooms. The oblique angled building with its white brick and glass facade is the perfect example of making the use of landscape as a part of the architecture.
Bjarke Ingels architecture is not only about buildings but also about the environment. He believes architecture should evolve as per the changing lifestyle of humans and that's what he tries to achieve with his buildings.
Bjarke Ingels group has completed few projects spread in over 10 countries and many more are under construction. With a limited range of projects; the name he has gained definitely defines true success.